The Vision Council is pleased to share two new appointments to the organization's Market Research team. Kris Stevens joins The Vision Council as the new Data and Analytics Manager and Dianella Maalem joins as the new Research Manager. Stevens and Maalem will report to Alysse Henkel, The Vision Council's Senior Director of Market Research and Analytics.
The expansion of The Vision Council's research team follows the recent roll-out of The Vision Council's new inSights Research Program. Powered by a modern analytics platform, the program includes all-new research reports developed from updated consumer and market data sources and methodologies.
More about Kris Stevens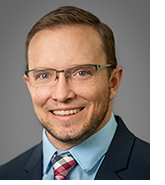 Stevens is responsible for developing The Vision Council's new market model and reports and creating interactive data tools for The Vision Council's members. Prior to joining The Vision Council, Stevens worked as a Data Scientist at the Kentucky Center for Statistics informing workforce and education policy. He earned an MS in Analytics from Bellarmine University.
More about Dianella Maalem
Maalem manages survey research and The Vision Council's member-reported data program, Industry Data inSights. Maalem brings more than six years of research experience to her role, including experience at leading academic institutions and pharmaceutical companies. Maalem received her BS in Health Sciences from DePaul University. She still mentors students there and other local high schools in Chicago.